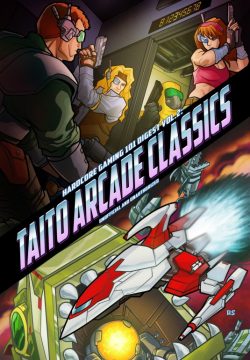 Cover artwork by Rusty Shackles
Warning! A new HG101 book is approaching fast! The second HG101 digest comes in at 98 pages and covers the arcade games of Taito. While mostly known for Space Invaders and Bubble Bobble, Taito was one of the most prolific developers in the 80s and 90s arcade scene, challenging even the likes of Konami and Sega. Unfortunately they aren't nearly as well known outside of Japan. When the Taito Legends 2 compilation disc for the PS2 was released – an embarrassment of riches containing top tier titles like Metal Black and Elevator Action Returns – a big name American video game site basically rated it as (paraphrased) "I have never heard of these games, 6/10". The cover pieces focus on Darius – which was previously reviewed on the site but has been rewritten almost entirely from scratch for this book – as well as Elevator Action. This digest only scratches the surface of what Taito has to offer, but hopefully it will convince you to delve into their outstanding catalogue of unique and interesting games. Also included is a cheeky look at early video game nudity – with over 100 pictures! – and capsule reviews of 80 Super Famicom titles.
To Purchase:
Paperbacks
US Amazon – $17.99
US Amazon: Kindle – $4.99
UK Amazon – £12.50
UK Amazon: Kindle
Also available on all other Amazon Europe sites for retail price of 17 euros.
PDF Download
PDF Download at Itch.io – $3.99
The contents are based on the following articles from the site, rewritten and reedited with even more insight and information!
Darius
Gun Frontier
Metal Black
Megablast
Tokio
Syvalion
Night Striker
Aqua Jack
Galactic Storm
Elevator Action
The Legend of Kage
The Ninja Warriors
ThunderFox
Rastan
Cadash
Dead Connection
Growl
The Ninja Kids
Pu-li-ru-la
Arabian Magic
Dungeon Magic
The NewZealand Story
Liquid Kids
Cameltry
Dino Rex
Nudity in 8/16-bit Games
80 Japanese Super Famicom Games
Interior Preview