태극문 (Taegeungmun) - PC-DOS (1995)

Taegeungmun
Soft Action is known for shooters and other action games, but that doesn't mean they never worked on any RPGs. Only none of them got ever released. The first known is Taegeungmun, only ever shown by a single character illustration, which suggests a planned Korean historic/fantasy setting1.
Box Ranger Returns (박스레인저 리턴즈) / Box Ranger 2 - PC-DOS (1995-1996)

Box Ranger Returns

Box Ranger Returns

Box Ranger Returns




Yet one more Soft Action game, Box Ranger Returns takes a special place in their unreleased catalogue. Other than all other cancelled works by the company it was listed on their home page among the published games, only not presented with a packshot but a title screen2. The site also claimed a release through Samsung Software in October 1996, but there was also never even an application for an age rating filed for such a game, and the Korean community is pretty much uniform in the verdict that a release didn't take place. The fact that Soft Action clearly distincts it from their other unreleased games, however, suggests that they actually finished Box Ranger Returns and delivered it to Samsung, but it was simply never published. All this is mere speculation, of course.

The game was a top-down quarterview shooter like Zaxxon with 7 stages, all of which were shown already in late 1995, with a release scheduled for November the same year3.


Advertisement





Box Ranger Returns

Box Ranger Returns

Box Ranger Returns
수로부인 (Suro Buin) - PC-DOS (1995)
Tiny Golem (타이니 골렘) - PC-DOS (1995)

Advertisement art

The never-released-anything DSP Team advertised this in cooperation with the hardly-ever-released-anything publisher Dongsung Joycom. The game was supposedly a horizontal scrolling shooter, how anything seen in the ad would fit into that is anyone's quess. The only reason this is even shown here is the hilarious Mega Man X ripoff.



The Galaxy: Part Frontiers - PC-DOS (1995)
| | | |
| --- | --- | --- |
| Concept Art | More vaporware by Dongsung Joycom! The Galaxy was meant to become Korea's first graphical MUD, with exciting mecha combat, an elaborate trading system and up to 300 players per server at a time4. Instead it became... nothing. | Concept Art |
디스토션 (Distortion) - PC-DOS (1995)

Distortion

Artwork

Although TWIM advertised this game quite extensively, actual screenshots or even information on the gameplay were rare. All that could be found was one image that looks like part of an upgrade screen for a robot, and a single, equally cropped ingame screenshot that kinda looks like a topdown hack&slay.


Advertisement





Distortion

Distortion
잊혀진 나라 아이시스 (Ichyeojin Nara Isys) / Forgotten Land Isys - PC-DOS (1995)

Forgotten Land Isys

Forgotten Land Isys


Concept Art

Ablex' RPG took heavy inspiration from various fairy tales. The background story revolved around an evil wizard, who tried to blackmail the Kings of the four lands of Isys for four keys to a legendary treasure. But the northern king sent his daughter away with the key into a hidden tower. Enraged the wizard cursed the princess with eternal sleep, put everyone in the northern land to stone and magicked away the castle into the land of legends, making it into a forgotten land. Many years later, the four seasons in the lands stop ciculating. Faced with eternal winter, a young boy living in the eastern land next to the forest of spring sets out on a quest to find out what happened to the fairy of the spring. His tale of course would have involved resquing the princess and defeating the evil wizard5.

Forgotten Land Isys made use of the same sketchy and cutesy charme as the previous games by Ablex, with a hero wearing a silly rabbit hat. Combat with a 5-headed party was supposed to play out SRPG style, comparable to Astonishia Story. Although the game was never finished, Isys hasn't been forgotten by its creators: One of the regions in their later MMO Magic Land was named Isys.





Forgotten Land Isys

Forgotten Land Isys
Take Back II: Escape from Storm (테이크백 II) - PC-DOS (1995)

Take Back II

Take Back II concept models


Concept Art

As can be seen in the ship models to the sides, the sequel to Ecstasy's Wing Commander clone was meant to use polygonal 3D graphics. Also, other than its predecessor which took place in outer space exclusively, ground missions were planned as well6.





Take Back II

Take Back II concept models
지혜의 책 (Jihye-ui Chaek) / The Book of Wisdom: Dragon's Scale - PC-DOS (1995-1996)

Character art

Title screen

The premise to The Book of Wisdom deals with a 7-year drought. At the brink of extinction, the ruler learns about a legend of the titular Book of Wisdom, which is supposedly able to save his land, so he calls out a search for the tome.

According to Sailon's first presentation of the game concept, players would have created two protagonists at the start, but further characters met during the game would have completed the party. Since the game dealt with a long draught and the consequential shortage of ressources, it would also have been necessary to take care of the party's food.

The heroes also were supposedly in constant competition with other groups of adventurers that were searching for the book. Each action in the game added to a time counter, so it was important to get information out of NPCs as quick as possible by asking the right questions and to avoid unnecessary combat when possible7. The game would have been displayed in an isometric quarter-view perspective, but there haven't been any ingame screenshots found, only various character portraits.





Character art

Character profiles
메다의 전설 (Meda-ui Jeonseol) - PC-DOS (1995)
| | | |
| --- | --- | --- |
| Meda-ui Jeonseol | Meda-ui Jeonseol obviously was a prototype for what later became Tipi-ui Moheom. Remaining sprites (the birds seen in the left screenshot) and background tiles, the mention of the name "Meda" in early previews of the latter game, and most of all an ending screen that is still based on the old character sprite (though with recolored hair, as seen on the right) betray its origin. | Tipi-ui Moheom |
엘리베이터 (Elevator) - PC-DOS (1995)
| | | |
| --- | --- | --- |
| Elevator | Elevator by I2 seemed like a step up above every other Korean FMV game. They even bothered to get rather prolific actors like Moon Sung-keun (Jealousy is My Middle Name, Hanbando), Park Joong-hoon (Two Cops, Haeundae) and Kim Jiho (Sarang-ui Insa [TV drama], Mianhae, Gomawo). The single known FMV screenshot also suggest comparatively high production standards. The reason for that is simple: The game was meant to be a tie-in to a science fiction movie with the same title that was apparently also never completed8. | Elevator |
파라곤의 전설 (Paragon-ui Jeonseol) - PC-DOS (1995)

Paragon-ui Jeonseol

Paragon-ui Jeonseol


Paragon-ui Jeonseol

Action platformer by Dongsung Joycom (now who would have thought this wouldn't see a release?) featuring three switchable characters with individual abilities. Of 7 planned stages, two were shown, together with a whole bunch of sprites, so it seems the development of this game got at least somewhat of the ground9.


Paragon-ui Jeonseol





Paragon-ui Jeonseol

Paragon-ui Jeonseol
Korea Big Baseball - Windows (1995-1996)
| | | |
| --- | --- | --- |
| Korea Big Baseball | After several games rooted in Korean history and folk tales, A+ decided to turn towards Korea's national sport—baseball. The game was intended to be an arcade-style alternative to the very simulation heavy games that were available for PCs at the time, like Hardball or Tony La Russa Baseball10. | Korea Big Baseball |
도지산 검지림 (Dojisan Geomjirim) - PC-DOS (1995-1996)

Dojisan Geomjirim

Dojisan Geomjirim

After Sin'geom-ui Jeonseol II: Liar, Ecstasy's next RPG would have been based on a wuxia-manhwa by Ya Seollok. Other than the previous game, combat would have taken place on a seperate battle screen in "true" realtime. Other promises included optional sidequests with choices and alternative paths and a CD audio soundtrack with 40 tunes11.

Dojisan Geomjirim is one of the very few cancelled Korean DOS games where digitally preserved graphics are known, thanks to the blog of graphic designer Kim Mugwang, who was a member of team Garam&Baram, which later rose to fame through their own company Grigon Entertainment12.


Dojisan Geomjirim Artwork





Dojisan Geomjirim sprites

Dojisan Geomjirim sprites
천부인 (Cheonbuin) - PC-DOS (1995-1996)

Cheonbuin

Cheonbuin

An unfinished run 'n gun by Acro Studio, of Baryon fame. The game story mixed Korea's founding myth with a crazy time travel plot, so the two playable characters where a Korean shaman-type woman and a soldier with a machine gun, with weird enemies like guys in flying cheetah costumes. The adventure was supposed to stretch over 6 stages with 3 missions each13.


Concept Art





Cheonbuin

Cheonbuin
Bring the Noise 2 / BTN 2 - PC-DOS (1995)

BTN 2

Atto Software's Bring the Noise 2 (nothing is known about the first part) looked surprisingly close to Mirinae's Full Metal Jacket, but as Kim Seongwan, the director of the latter game, pointed out in our interview, the games were developed independently, without the teams originally knowing about each other's work. While Mirinae released their game, however, BTN2 wasn't so fortunate. Rumor has it that there was a break in at Atto Entertainment's office and their computers were stolen before the game could be completed (as is also mentioned in the interview).



이터너스 스톤 (Eternos Stone) - PC-DOS (1995)

Eternos Stone concept art

Concept art


Concept art

Very little is known about Eternos Stone by Trigger Soft, except for a lot of character concepts and that it wasn't—as the only screenshot might lead one to believe—an action RPG, but united action, puzzle and shooter elements14.


Concept art





Concept art

Eternos Stone
Dongsung Joycom puzzle games - PC-DOS (1995)

IQ 2000

More unreleased Dongsung Joycom goodness: Drops was a falling blocks puzzler with story mode and 4-player network play15, IQ200 is only known by its story about a Dr. Blue and Dr. Green who put their super intelligent robots in a duel of wits is only known by its story line16, and Triangle was... just weird and incomprehensible by textual descriptions17.


Drops concept art





Triangle
가이거 2012 (The Gaiger 2012) - PC-DOS (1995)
| | | |
| --- | --- | --- |
| Gaiger 2012 | A 3D space shooter by Makkoya that was only seen in advertisements and apparently never properly reported on. | Gaiger 2012 |
모래시계 (Morae Sigye) - PC-DOS (1995)
| | | |
| --- | --- | --- |
| Morae Sigye | HIC Infocom had already released a multimedia CD by license of the TV drama series Morae Sigye ("Hourglass"), but when they started to enter the gaming industry proper, they also announced a game based on the franchise. This wasn't developed in-house, but at a team in the US that consisted entirely of Korean-Americans, Joy Cinemedia. Their staff included a Ken Shim, who supposedly already worked on Creature Shock and Furył (although his allegiance to either title cannot be confirmed when comparing their credits listings on any of the big video game databases). The first screenshot made the game look like a traditional 2D fighter, whereas it was described as a mix of 2D adventure elements similar to Full Throttle and 3D action scenes inspired by Bio Forge18. | Morae Sigye |
프름이의 지구살리기 (Pureumi-ui Jigusalligi) - PC-DOS (1995)
| | | |
| --- | --- | --- |
| Pureumi-ui Jigusalligi | A vertically scrolling shooter with an environmental message by Ablex. | Pureumi-ui Jigusalligi |
엑소더스 2602 (Exodus 2602) - PC-DOS (1995)
EXP - Mega Drive (1995-1996)

EXP (Mega Drive)

EXP (Mega Drive)

Although it was finally released for PCs, Open's EXP actually started out as a Mega Drive game. Only halfway through the development it was ported, and the original version finally dropped when Samsung abandoned the 16-bit system in favor of the Saturn.

Early Mega Drive screenshots still showed opaque blue text boxes and menus, while those have been made transparent later. The main graphics and overall story appear to have been the same, although some scenes were arranged differently in detail (see examples below). In combat the player characters used to be centered at the lower portion of the screen with the menus unfolding around them, while the final version puts them in the far lower left corner21.





EXP (Mega Drive)

EXP (Mega Drive)
Comparison Screenshots
| | |
| --- | --- |
| EXP (Mega Drive) | EXP (PC) |
| EXP (Mega Drive) | EXP (PC) |
IF (이프) - Mega Drive, PC-DOS (1995-1996)

If

IF was the second planned Mega Drive title by HiCom after Power Ball AD2001, but as its development started comparatively late, it was soon remodeled into a PC game. The visuals lead to comparisons with HiCom's own Corum series, but IF had a different story about the search for five elemental seals that ban an immortal ancient emperor, and the game was even more action-oriented with slight platforming elements, special moves and a fixed level structure22.



일지매전 2 (Iljimae-jeon 2) - PC-DOS (1995-1996)

Iljimae 2

Iljimae 2


Artwork

When this follow-up to Danbi's sprite based 3D rail shooter was first shown, it almost looked identical to its predecessor, only with a new background and effects23. Later, however, the game resurfaced with a completely new render look24.





Iljimae 2

Iljimae 2
왕도의 비밀 (Wangdo-ui Bimil) 2D Version - PC-DOS (1995-1996)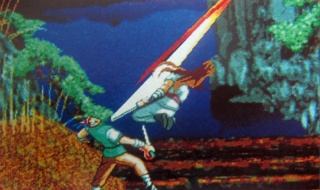 Wangdo-ui Bimil (2D preview)
Before Wangdo-ui Bimil turned into a 3D adventure with fixed camera perspectives, it was conceived as a sidescrolling action game. One or two players would have been able to select between three heroes, opposed to the single protagonist of the final game25.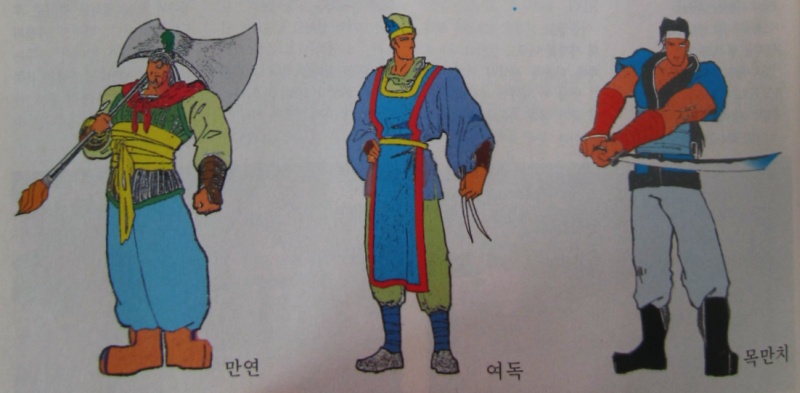 Character Artwork