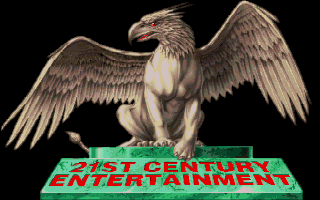 21st Century Pinball
| | |
| --- | --- |
| | <!a href="21stpinball8.htm">Next Page >>> |
Page 1:
Pinball Dreams / Pinball Pinball / Pinball 2000
Pinball Fantasies / Pinball Fantasies Deluxe


Page 2:
Pinball Dreams II
Pinball Illusions
True Pinball


Page 3:
Pinball Mania / Pinball 3D-VCR / Total Pinball 3D
Thomas the Tank Engine and Friends Pinball


Page 4:
Pinball 4000
Pinball World


Page 5:
Obsession
Absolute Pinball

Page 6:
Pinball Builder / Pinball Construction Kit
Slam Tilt
Pinball Construction Kit 2
Electronic Pinball


Page 7:
Slam Tilt Resurrection / Avery Cardoza's Slam Tilt Pinball
Platinum Pinball: Pinball Mania Plus


Page 8:
Pinball Challenge Deluxe
Pinball Advance
Pinball Dreaming: Pinball Dreams
Pinball Dreaming: Pinball Fantasies

By the year 2002, Digital Illusions CE was working on first person shooters for Electronic Arts. Their days of demoscening and pinballing were long since over. But their work still continued, as Ubisoft acquired the rights to their Dreams and Fantasies tables and enlisted developer Binary Nine to remake them for the Game Boy Advance. The result was Pinball Challenge Deluxe, a compilation of all eight tables from DICE's first two games. And I have to say, I am very surprised. The conversion job here is stellar: ball physics are just as good as the originals (though some awkward bits still remain), and the table graphics have all been seriously souped up for the GBA's superior hardware. If I have one complaint, it's that the view is too far zoomed in for the small screen, but the game is still very playable and looks really neat, plus unlike many of the other cartridge-based ports, this one actually saves your high scores. Olof Gustaffsen's legendary music comes through very well, presumably because Binary Nine are using a mod player, but hey, can't knock 'em for that. Strangely, though, the game only seems to have been released in Europe. That's actually a real shame, but on the plus side, since GBA games have no region protection, importing should be no trouble. Also, every feature of every table still exists, including the Match system in the Fantasies tables. It's good that they put that back in - I kind of missed it in the PlayStation port.
Overall, PCD might not be the definitive way to play the DICE tables, but it does a darn good job of it.
It didn't end at Pinball Challenge Deluxe above - developers Digital and Rebellion created Pinball Advance, based on Redoubt's Pinball Mania Plus tables and squished into the Game Boy Advance. Jailbreak, Tarantula, and Dare Devil appear here, brutally crushed down from their Platinum versions to fit on the tiny GBA cartridge. The music is awful, not even resembling the originals (or even the Plus versions), and makes heavy use of the GBC sound channels for extra ear-piercing goodness. Physics had to be cut down, and despite being 3D, the screen still needs to scroll around, making it absurdly difficult to aim your shots. Thankfully, this one was only released in Europe, making it that much harder to find abroad. It had better stay that way.
Quick Info:
| | |
| --- | --- |
| Developer: | |
| Publisher: | |
| Genre: | |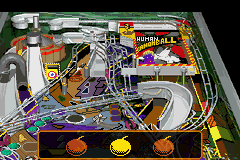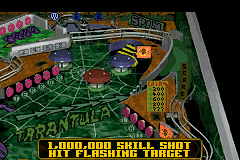 Pinball Challenge Deluxe was a great way to resurrect Pinball Dreams and Fantasies for a modern audience, but the Game Boy Advance's tiny 240x160 screen is just not large enough to see much of the table, and the game was only released in Europe, making it difficult for gamers abroad to get their hands on a copy. So an enterprising iPhone developer called Cowboy Rodeo got in contact with Binary Nine and The Silents to license back the Pinball Dreams tables for another portable outing. The result was this excellent port of a port, with a souped up interface that mirrors Apple's Cover Flow system.
The iPhone version of the game offers a surprising amount of polish and options. While the tables by default use the table artwork from the GBA versions (from Challenge Deluxe), which just happen to be exactly wide enough to fit vertically in the iPhone screen, you can also play with the phone tilted sideways, leaving more room to tap the screen with your thumbs without covering the table. The options menu also allows "Classic Graphics", which changes the table artwork and menus to resemble the Amiga versions instead; Classic Difficulty (replaces the improved physics with the original, slightly faster ones), and a slightly helpful Tap Zones feature which shows you which region of the screen to tap to do stuff. Keep your shaky hands at bay, though, as shaking the iPhone tilts the table. There is a demo ("lite") version available on the App Store as well, but oddly, they only give you the worst table of the bunch (Beat Box) and only one ball per game. The full version is only $5, though, which is two dollars less than the PSP version.
In late 2009, Pinball Dreaming was ported to the PlayStation Portable and sold through the PlayStation Store as part of Sony's PSP Minis. This version uses the same resources as the iPhone version, lacking the "classic" options, but still allowing for play in portrait mode with a press of the Select button. It's much more fun to play with the PSP on its side, since the PSP's 480x272 screen is almost large enough to fit the entire table on screen with minimal scrolling. The only annoying part is that it isn't quite wide enough and has to scroll horizontally, including the scoreboard, meaning that at times you will not be able to see your entire score or messages that appear on screen. I consider this only a minor quibble, however, as you really ought to be paying attention to the ball, not the messages. As for whether it's better than the iPhone version, if you don't like the new table artwork and don't like paying more than five bucks, I'd opt for the iPhone version - but I honestly prefer the PSP version for its actual buttons.
Pinball Dreams and Fantasies>' PSP ports are also available over the PlayStation Store as PS3 games, however as these are straight-up emulations and not actual ports, the game screen is upscaled to fit the HD display of the PS3, which looks rather blurry and ugly. The select-button rotation is still available, and is pretty much worthless, since you'd need to rotate your TV and the PS3 controller to play it like that. The upshot is, if you own the PS3 version, it can be transferred to your PSP anyway.
Later that same year, Cowboy Rodeo ported Pinball Fantasies to the iOS and PSP, in much the same manner as Pinball Dreams (and a nearly identical menu interface, again using Cover Flow style). The same added features for the Pinball Dreams port have been added to Fantasies, including the ability to play in portrait mode, which in Fantasies is much more important, since the tables are quite a bit longer than Dreams'. As with Dreams, the PSP version does not include the Classic Graphics and Classic Difficulty options.
There is a unique hidden feature in this version of Fantasies. Cowboy Rodeo's official Pinball Dreaming website has an extra VIP section that can only be accessed using a secret keyword. This keyword can be obtained from Fantasies' Cover Flow view by flipping any of the floppy disk graphics backwards. The hidden page on the website contains downloads for various remixed versions of the Dreams, Fantasies, and Illusions themes, as well as Olof Gustaffsen's remix of 2004's Amiga demo hit, Silkcut (which is well worth a watch by itself, if you're interested in what can be done with a fifteen-year-old graphics chip).
21st Century wasn't all about pinball games. In their early years, they published a few other Amiga action games, unfortunately unheard of these days. But once they hit their stride in the realm of pinball, they seem to have done almost nothing else (except for a few rare adventure titles like 1996's Synnergist) right up to the point where they met their demise in 1999. I can't say I disagree with their death, either: after Slam Tilt was released, they really couldn't improve on the game any more than they already had, and went into a steady decline from there. Alas, poor company... but the legacy lives on, fear not! The fan community has seen fit to bring new life to the classic tables, with a series of remakes for the popular Visual Pinball and Future Pinball creation systems. I highly recommend checking out the Future Pinball versions of Steel Wheel (by Misaligned Cow Ventures) and Stones & Bones (by level66 Productions). Expertly done.
Even DICE still pays homage to their old demoscene days as The Silents. The next time you play Battlefield, keep an eye out for "TSL" - that's their acronym. It's appeared in many of their games, commonly on the high score tables, but also hidden on such innocuous things as newspapers.
Related Articles
| | |
| --- | --- |
| | <!a href="21stpinball8.htm">Next Page >>> |
Page 1:
Pinball Dreams / Pinball Pinball / Pinball 2000
Pinball Fantasies / Pinball Fantasies Deluxe


Page 2:
Pinball Dreams II
Pinball Illusions
True Pinball


Page 3:
Pinball Mania / Pinball 3D-VCR / Total Pinball 3D
Thomas the Tank Engine and Friends Pinball


Page 4:
Pinball 4000
Pinball World


Page 5:
Obsession
Absolute Pinball

Page 6:
Pinball Builder / Pinball Construction Kit
Slam Tilt
Pinball Construction Kit 2
Electronic Pinball


Page 7:
Slam Tilt Resurrection / Avery Cardoza's Slam Tilt Pinball
Platinum Pinball: Pinball Mania Plus


Page 8:
Pinball Challenge Deluxe
Pinball Advance
Pinball Dreaming: Pinball Dreams
Pinball Dreaming: Pinball Fantasies