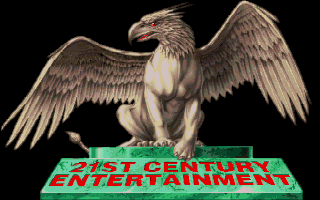 21st Century Pinball
Page 1:
Pinball Dreams / Pinball Pinball / Pinball 2000
Pinball Fantasies / Pinball Fantasies Deluxe


Page 2:
Pinball Dreams II
Pinball Illusions
True Pinball


Page 3:
Pinball Mania / Pinball 3D-VCR / Total Pinball 3D
Thomas the Tank Engine and Friends Pinball


Page 4:
Pinball 4000
Pinball World


Page 5:
Obsession
Absolute Pinball

Page 6:
Pinball Builder / Pinball Construction Kit
Slam Tilt
Pinball Construction Kit 2
Electronic Pinball


Page 7:
Slam Tilt Resurrection / Avery Cardoza's Slam Tilt Pinball
Platinum Pinball: Pinball Mania Plus


Page 8:
Pinball Challenge Deluxe
Pinball Advance
Pinball Dreaming: Pinball Dreams
Pinball Dreaming: Pinball Fantasies

A return to Spidersoft's side of the pinball universe, Pinball Builder (known in Europe as Pinball Construction Kit, but presumably renamed for the US to avoid clashing with Electronic Arts' 1983 Apple II game of the same name) is a construction tool that lets you design pinball tables around a handful of different themes, then play them in both Windows and DOS. It seems to be based on the same engine as Expert 4000. The real problem with Pinball Builder, though, is that not only is the interface really confusing, it's also not very flexible either. Pinball Builder only comes with a meager selection of different themes, with a few artwork variants between each theme. Depending on your theme, the table will come with a pre-assembled set of tracks and bumpers with no room to really move or customize them. There seems to be a rudimentary scripting system included as well, mostly for determining which bonuses are awarded at what times and which lights are lit in response, but much like the editor itself, it's confusing and inflexible. As if this wasn't depressing enough, the workshop comes equipped with a single MIDI track (which can be turned off) that really does nothing to lift the mood. It's creepy in a cool way, but I couldn't imagine listening to it for hours while I worked on a table.
For those that don't want to spend hours trying to finagle a decent pinball table out of this interface, Spidersoft has included a sizeable amount of sample tables - a couple per theme - but these tables appear to suffer from the limited user interface as well; it's exceedingly obvious that they haven't put the same amount of effort into them as they did with Pinball Mania. And that's really saying something.
This program was shipped on a single CD-ROM, containing versions for MS-DOS and Windows 3.1. It is exceedingly difficult to run the program on anything newer than Windows 95, and it also does not have a frame rate limiter, so faster computers will be near impossible to play it on. Thankfully DOSBox will assist in running them nowadays, but the editor is not available for DOS users and can only be used in Windows, while the DOS executable is provided solely for the benefit of running pre-built tables. For best results, you'll probably want to try to install Windows 3.1 within DOSBox - no easy task, but there are guides online for it.
If you're really curious about Pinball Builder, you can find pre-owned copies on Amazon and the like for less than a dollar. Just bear in mind that it will not assist you in your fantasies of designing the next great Williams table. Spidersoft was working on an upgrade patch which was to double the amount of table outlines and background artwork available, but due to 21st Century's untimely death in 1997, this never came to pass.
The final Amiga pinball game released by 21st Century is handled by Liquid Dezign, consisting in part of members from the original Digital Illusions team that made Pinball Illusions. After the relative failure of Pinball Mania, the team banded together one last time to send off the Amiga properly. They don't disappoint here. Even print publications agree: SlamTilt was the last game to score higher than 90% in Amiga Power magazine, before they went out of publication.
Included in SlamTilt are four new tables designed from the start for AGA-capable Amigas, meaning the tables look as smooth as ever. The palettes used here are quite a bit darker, thematically, than others. Lots of navy blues, less saturated colors. And Liquid Dezign doesn't pull any punches as far as content, either: all of the tables have multiball modes, ball savers, kickback features, video modes, and more combo bonuses than you can swing a flipper at. (Terrible joke, yes.) The ball looks a lot nicer and actually appears to be rolling instead of simply being a tiny bitmap flying around the screen. Flashers and table lights will appear to illuminate everything else. The dot matrix display above the table is animated really smoothly and has all kinds of fun little videos that play for things like bumpers being hit, or losing your ball.
Mean Machine
Road racing, and lots of it! Mean Machines seems to cover pretty much everything in car racing. The special modes keep you on your toes, and this table is also the only one that has a skill shot, though it makes up for it by allowing you to select what kind of reward you'll get if you happen to make the shot. Selecting the right reward can really add things up, though players less familiar with the table will probably opt for the 20 Million every time instead of the Lit Mode or Speed Letter bonuses. The pressure is on for most of the special modes: you'll only have a short (usually around 10 to 15 seconds) time limit to hit a specific shot. Better brush up on your aim. All things considered, though, I consider this the weakest table in the collection - though really that's not saying much; they're all pretty good.
The Pirates
This one's a lot of fun. Pirates includes lots of multipliers, easy one-shot millions, multiball, and a video mode. And hey, who can argue with pirates? It's not like there's a ninja-themed table in any of these games. No skill shot to speak of, but there are lots of fun ramp hits, and the tracks actually have a loop-de-loop in them, set up in such a way that a skilled player can almost endlessly launch the ball on the same ramp. 25 of these ramp hits will give you a chance for an extra ball, so that will help a lot. Special modes include retrieving your treasure map from a mischievous monkey, running from a crocodile, or the video mode where you throw knives at other pirates while dodging cannonballs. (Bit of an unfair selection of weaponry, there...) My only complaint about this table is that the music tends to get irritating - I can only take so many sea shanties.
The Ace of Space
What if 21st Century had the rights to make a pinball game out of Star Wars? You're about to find out - this sci-fi themed table has a pretty strong Star Wars feel to it, right up to the point where you get yourself into a lightsaber fight with a Darth Vader ripoff. (Amusingly, hitting the correct ramp enough times in this mode will cause your character to draw a blaster and shoot Vader, in a silly nod to Indiana Jones' famous sword fight scene.) This table has all sorts of special modes, including the aforementioned lightsaber fight (a single ramp hit can get you six million!), space combat, hacking, and more. There's also the "BLAM!" mode, in which you're given a target, and hitting any of the ramps will have your character blow that target to bits - targets ranging from a UFO and a space station to a PC and even a banana. A little wacky for a mostly serious table.
Night of the Demon
It doesn't surprise me at all that the hardest table of SlamTilt is the horror-themed one. While there isn't a skill shot on this table, there is a multiball trigger, plenty of nice places to pound the bumpers, and an (arguably) sexy demon girl at the bottom of the table. Hitting the bumpers is punctuated with an animation on the scoreboard of a zombie being punched repeatedly... nice touch. This table is especially difficult because it has a steeper angle than the others, and practically all of the action on the table is near the top of the board, which makes it quite a pain sometimes to make the tricky shots. This is especially compounded in Witchcraft mode, where a magnet in the center of the table is constantly repelling your ball and sending it in weird directions, or in Bat Butcher mode, where you have to hit the correct ramp, but which ramp you need to hit changes every few seconds. On the flip side, though, these modes are both worth insane points, making this table absolute heaven for the wizards.
SlamTilt also recieved a Windows port later down the line, handled by UDS of Absolute Pinball fame, renamed to SlamTilt Pinball and released as a budget title. The same tables are included, as are a few high-res screen modes that enable you to see more of the table at once (again, at the expense of not being able to see half of what's going on). This port was released about half a year after Absolute Pinball, and evidently didn't sell very well at all. Expert Software eventually re-released it as a budget jewelcase game (thankfully without touching the game itself), with generic crappy case art that hides the true awesomeness of the game. Unfortunately, the game is still near impossible to run on modern systems, delivering black screens and crashes. I was only able to get it running on several old Pentium machines - any machine newer than a Pentium 3 may require severe hacks to get the game running, often involving extreme measures like stopping explorer.exe before running the game.
Finally, of particular note is the fact that, despite the game being released after the foundation of the ESRB, this game never received a rating. It probably would have earned at least a Teen rating, if not Mature - the reason why being the blood and partial nudity seen on Night of the Demon (and to a slightly more pixelated extent, The Pirates). And when I say that the tables are darker, I mean it: the music, the visuals, the content is all a lot less upbeat than, say, Fantasies was. So I suppose if you were sickened by how cheerful the earlier games were, and are looking for a more mature pinball experience, then this is probably your game.
Quick Info:
| | |
| --- | --- |
| Developer: | |
| Publisher: | 21st Century Entertainment |
| Genre: | |
Spidersoft was evidently aware of the complaints lodged at their previous Pinball Builder, and had planned to create a sequel/upgrade to add numerous extra features. An anonymous 21st Century staffer had this to say about it:
"I know what you mean about PCK being simple and restricted. We've taken a lot of stick from people who want much more flexibility but we think it's a bit unfair in the sense that PCK is hugely better then previous attempts at the same sort of thing. Naturally we're working on another leap forward next time." -- Pinball Construction Kit 2 and Related, Tower of Pin, August 8th, 1997
However, due to 21st Century Ltd.'s dissolution at the beginning of 1998, this product was evidently never finished.
21st Century was developing just one last pinball game before they finally went under. Spidersoft was once again brought in to do the developing, but 21st was going through some major financial strife at the time, so it pretty clearly shows through in the final product, or what exists of it. Interestingly, 21st Century Entertainment never actually finished development on this game - in March of 1998, 21st Century closed up shop, and Electronic Pinball was canceled. However, presumably an upset employee didn't want their work to go to waste, so they leaked the game to "the scene" - all that exists in playable form of this game is a leaked, unfinished beta version.
Electronic Pinball was designed as both a DOS and Windows game. It's rather difficult to get either one working, since the game doesn't expect you to be running high-color graphics and extremely high screen resolutions. This one includes one final set of four tables, covering some of the usual themes, but a few stick out as being particularly interesting, if not really that fun in practice.
PC Pro
Ever wonder what it would be like if the innards of your computer were turned into a pinball machine? Yeah, me neither, but Spidersoft evidently thought it'd make for an interesting table. PC Pro involves virus attacks, email, and CD-ROMs as you bounce a ball across the motherboard. Thankfully, said ball is fully Plug 'n' Play compatible, and fits perfectly into the various tracks and holes in the table with nary an IRQ conflict. Okay, I'm actually getting bored of all these computing jokes (and half of you are probably wondering what the hell I'm going on about), so I'll just stop while I still can. Building multipliers on this table requires you to assemble the computer by hitting the four "plug" targets on the bottom half, as well as getting peripherals by hitting the four spot targets on the upper level. There is a million bonus on the upper level for hitting three drop targets laid into the side wall, which typically results in far more points than usual, due to the jet bumpers' tendency to propel the ball to the right and into said drop targets.
Safe Cracker
Ah, the classic game of cops and robbers - except seemingly without the cops, as you're pretty much free to launch the ball right through the vault, liquidate their collection of gold bars, and generally just steal crap. Doesn't stop the table from being hard, though. The multi-level setup of this table makes it hard to keep the ball in the upper half, meaning quick reflexes will be needed to make sure the ball doesn't drain easily. When the ball enters the vault, it can't leave until the timer is up, and even then the ball can be kept up there indefinitely if you can avoid the hole in the bottom right corner.
Speed Freak
A world-traveling, fast-vehicle-driving adventure, where you circle the globe in search of a quick thrill. Not a whole lot remarkable about this table; it's a pretty standard layout, we've seen a lot of racing-themed tables already (Slam Tilt's Mean Machines and Fantasies' Speed Devils come to mind, and that's just from this article), and the artwork on this table uses a lot of ugly-looking dithering. My guess is that it was designed for 256-color displays, and most of the palette was occupied by the Windows version's background artwork.
Globetrotter
The Globetrotter table is all about, well, traveling the world. The table is dominated by a three-lane arch, located dead center - if you can run the ball through all three lanes of the arch, you get a bonus multiplier. Aside from the big arch, the table is actually pretty forgettable, and too symmetrical. Amusingly, one of the sound effects played when your ball is launched is the classic airport announcement, "The white zone is for the immediate loading and unloading of passengers only." (A reference to the movie Airplane!, perhaps?)
Electronic Pinball installs both the DOS and Windows versions at once. If you can manage to get the Windows version to work (it's a 32-bit program but it's pre-DirectX, so only Windows 3.1 and 95 will run it reliably, and in the former's case, will only run with the Win32 extensions installed), you'll be treated to a nice computer-board interface and a point and click menu. If you run the DOS version (i.e. through DOSBox), said interface is totally missing, and all that appears on screen is the table, the scoreboard, and an ASCII text description of the controls. The game plays about the same either way. Overall, though, you really wouldn't want to bother with this one...the tables just aren't quite as polished, with plenty of rough edges in the graphics, obtuse bonuses that are hard to figure out, and layouts that don't allow your ball much opportunity to get around. It's certainly not a bad game, it's just not very good either, and I doubt it would have had the chance to improve if given more time in the oven, so to speak - as it stands, it probably would never have been successful had it actually been released.
Page 1:
Pinball Dreams / Pinball Pinball / Pinball 2000
Pinball Fantasies / Pinball Fantasies Deluxe


Page 2:
Pinball Dreams II
Pinball Illusions
True Pinball


Page 3:
Pinball Mania / Pinball 3D-VCR / Total Pinball 3D
Thomas the Tank Engine and Friends Pinball


Page 4:
Pinball 4000
Pinball World


Page 5:
Obsession
Absolute Pinball

Page 6:
Pinball Builder / Pinball Construction Kit
Slam Tilt
Pinball Construction Kit 2
Electronic Pinball


Page 7:
Slam Tilt Resurrection / Avery Cardoza's Slam Tilt Pinball
Platinum Pinball: Pinball Mania Plus


Page 8:
Pinball Challenge Deluxe
Pinball Advance
Pinball Dreaming: Pinball Dreams
Pinball Dreaming: Pinball Fantasies