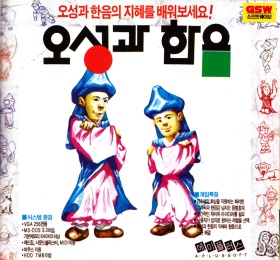 It is obvious from the first look that this game is heavily inspired by Coktel Vision's Gobliiins. Nonetheless, A+ kept with their theme of traditional Korean settings. Oseong and Haneum were two brothers, scholars of ancient times that were quite famous for a anecdotes about their childhood mischiefs.
The game starts out with their daily routines (stealing fruit from trees, doing their homework, catching snakes, etc.), but soon the two find themselves in a land of dreams, which gives the artists an excuse to put in several backgrounds that would be terribly out of place and time otherwise, like a dinosaur, a high-tech world, and so on.
Like the heroes in the French role model, Oseong and Haneum have to work together to solve the puzzles (Haneum joins in the third screen). However, here they use the same set of commands (walk, pick up, interact), and often it is not comprehensible why Oseong had to do this, but only Haneum could to that. Also, some items have to be placed at the exact location on screen to be usable, but more often than not there's no indicator whatsoever to reason this.
Because the twenty stages all work without a single word of text (only an introduction telling the background story of the two protagonists comes in text form), Oseong-gwa Haneum can be enjoyed by everyone without any language barrier. Only a few of the real-world puzzles may be harder without the cultural context (that most Koreans would probably lack nowadays, either). The question is, would one really want to take it upon oneself? While technically much more solid than their first game, it is still delivers an example of frustrating adventure design. Only the detailed artwork and lovely animations can at least partly compensate for the hardships.