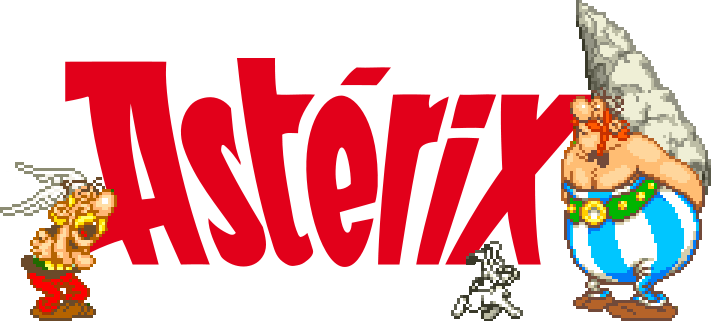 | | |
| --- | --- |
| | <!a href="asterix3.htm">Next Page >>> |
Page 1:
Intro

Page 2:
Astérix / Obélix (Atari 2600)
Astérix et la Potion Magique
Astérix and the Magic Cauldron
Astérix und Obélix: Die Odyssee
Astérix chez Rahàzade


Page 3:
Astérix: Le coup du menhir
Astérix (Arcade)
Astérix (Sega Master System)
Astérix and the Great Rescue
Astérix (Game Boy / NES)
Astérix and The Secret Mission


Page 4:
Astérix: Caesar's Challenge
Astérix & Obélix (SNES/etc.)
Astérix and the Power of Gods
Astérix & Obélix: Die Suche nach dem Schwarzen Gold


Page 5:
Astérix & Obélix Take on Caesar
Astérix: The Gallic Wars
Astérix: Search for Dogmatix
Astérix Mega-Madness
Asterix & Obélix Bash Them All


Page 6:
Astérix & Obélix XXL / Astérix & Obélix Kick Buttix
Astérix & Obélix XXL 2: Mission: Las Vegum / Ouifix
Astérix: Rescue Obélix


Page 7:
Astérix and the Vikings
Astérix and Cleopatra The Game
Astérix at the Olympic Games


Page 8:
Astérix Brain Trainer
Astérix & Obélix Encounter Cleopatra
Astérix - These Romans Are Crazy!


Back to the Index

Astérix Drôles d'exercices! (Astérix Brain Trainer) - Nintendo DS (2008)
| | | |
| --- | --- | --- |
| French Cover | English Cover | Title Screen |
One of the biggest successes found early on with the Nintendo DS was the Brain Age series of games. Dr. Ryuta Kawashima's exercises to keep the brain fresh and young was a worldwide hit and in its wake came hundreds of puzzle collections. Astérix himself being a cunning and clever man was no stranger to being used in efforts to educate young minds, with him being featured in French classes all over the world, having a line of Learning French books for sale and even the albums themselves serving as a history lesson ,though with some creative freedom, obviously. So the thought of featuring Astérix in a brain training game wasn't the most outlandish idea. Strangely though, it was about three years too late.

Developed by Little World Studios, Astérix Brain Trainer revolves around the return of Goudurix, who has come home to the village during his summer break from school in Lutecia. The Gauls are not going to let him rest during his break, as they prepare a set of tasks for him to keep up his training to become a mighty Gaul warrior just like Astérix. With Astérix as his counselor and tutor, Goudurix must solve riddles, play memory games and learn music before going to the exam table to show what he has learned.

Astérix Brain Trainer was developed with the full cooperation and support of A Les Editions Albert René, the official licensor and co-owner of the franchise. All the artwork is all new and original done by none other than Uderzo himself, giving the game a strikingly authentic presentation. The cut scenes are done in a visual novel style with still art being morphed and stretched for animation with some great lighthearted music and sound effects. Even though the game is mostly a collection of images, it looks great and fans will really enjoy the artwork throughout.

When you start the game, you see a map of the village with flashing huts that you can highlight, each holding a different task. All the villagers offer something different, from constructing pictures from several pieces, playing memory card games or even stirring the pot of the magic potion while remembering the quantity of items needed to brew it. Each of the games have five difficulty levels, and in order to unlock new tasks for Goudurix to solve, the player needs to finish one difficulty per hut before taking the exam.

| | |
| --- | --- |
| | |

The different brain games are fairly simple and even at the highest setting, adults will most likely be able to get a high score after a try or two. It's quite clearly made for children in mind, but at that it does a really great job offering a great variation in mini-games with some colorful art and universally understood humor. The lifetime might be on the short side, as they become quite repetitive halfway through. The game also allows for four player Wifi on a single cartridge, allowing you to test your brain health against your bodies in a race to solve the problems first.

Astérix Drôles d'exercices! (Nintendo DS)

Astérix Drôles d'exercices! (Nintendo DS)

Astérix Drôles d'exercices! (Nintendo DS)
Astérix & Obélix chez Cléopâtre (Astérix & Obélix Encounter Cleopatra) - Cell Phone (2009)
| | | |
| --- | --- | --- |
| French Title Screen | English Title Screen | |
Returning to the world of cell phone gaming in 2009, it was now French developer and premier cell phone game company Gameloft who was tasked to make Astérix portable. Going back to a tried and true classic, the game is a platformer based on Astérix et Cléopâtre.
Similar to the other games by Gameloft like Chuck Norris: Bring On The Pain, Astérix & Obélix chez Cléopâtre is a platform game using small scripted events and simplified controls throughout an impressive 11 levels, taking you from the snowy winter of Gaul to the roasting sun in Egypt. The game follows the events of the source pretty closely, as each level usually relates to a specific scene with some expanded elements to allow for more interesting level design. The stages are filled with Romans and sometimes even have multiple routes. To get through the stages you will need to use both Astérix and Obélix to overcome some puzzles or roadblocks, playing to their different strengths. While the majority of the game is a standard 2D platformer, there are also certain levels that involve boating with down the river from an overhead perspective, and free roaming fights against enemies. The controls for the co-op parts are flashed on screen when you reach the moment where they're is needed. The only real thing taken from the In Fusio titles is the pre-stage briefing of items which you can pick up and be rewarded a 1-up if achieved. Magic potions can also be picked up for temporary invincibility.
| | |
| --- | --- |
| | |
| | |
| --- | --- |
| | |
For a cell phone game, it's actually pretty damn good considering how cheap and unplayable the In Fusio titles were before it. The animation is surprisingly smooth with huge detailed sprites, looking better than many of the games developed for the SNES and Genesis. The challenge is also well balanced and genuinely fun with some interesting co-op sections sprinkled in to keep the game varied. For anyone hungry for some good gaming on their cell phone, this would be an excellent choice. The Nokia 95 version is especially smooth.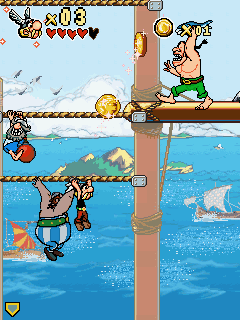 Astérix & Obélix chez Cléopâtre (Cell Phone)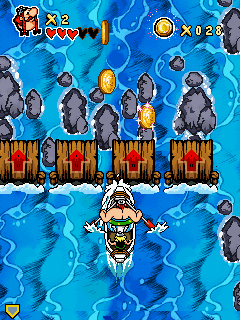 Astérix & Obélix chez Cléopâtre (Cell Phone)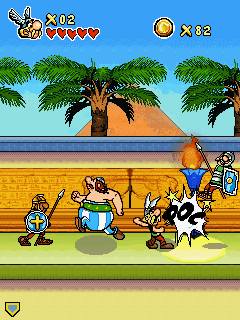 Astérix & Obélix chez Cléopâtre (Cell Phone)
Astérix - Ils sont fous, ces Romains (Astérix - These Romans Are Crazy!) - Nintendo DS (2009)
| | | |
| --- | --- | --- |
| French Cover | English Cover | Title Screen |
Due to the financial difficulties that Atari has been experiencing for near a decade, the Astérix licence was forced to find itself a new home by late 2008 as it simply was not deemed profitable enough. The search was a rather quiet one that went unnoticed, but maybe not surprisingly it would find a new home very near to its old one. In 2009, Ubisoft announced they would develop a new Astérix title for the Nintendo DS, at that point called The Adventures of Astérix. When released a few months after the initial announcement, it was re titled Astérix - Ils sont fous, ces Romains (Astérix - These Romans Are Crazy!).
As exciting as it is seeing a new company have their hands on him, Astérix's new adventure is not exactly very daring. Astérix - Ils sont fous, ces Romains is yet another board game. Obélix has become bored in his spare time. The Romans have given up on trying to defeat the village, and even the wild boars have gone into hiding, fearing they will stumble upon the oaf wandering the woods. To help lift his spirits, Astérix has organized a surprise for him: a race around the Roman Empire. The rules are simple - first man to reach the goal has won. Along the way there are challenges to be met,and Romans patrolling to be found so there's still lots of fun left to be had within the Empire. Joining the duo in their race is Abraracourcix and Assurancetourix.
The game is basically a mini-game collection of the laziest sort. There are a few different kind of spaces to land on, some being mini games, some being hazards and others being beneficial. There are a total of four boards to play on - the village, the forest, the Roman camp and the coast line. Each of these boards have five mini games each, ranging from catching musical notes as Assurancetourix to cooking feasts at the banquet. The mini games are usually extremely simple with the only requirement being to drag something left and right or memorize some kind of order to objects. Before these mini games you get the choice of either Standard or Expert, though the difficulty hardly goes up whatsoever when you pick Expert. Along the way you can also acquire a wild boar which lets you skip events and progress one extra space. Each board usually takes about ten minutes to finish.
The sprites are again scaled artwork, though this time they seem awfully cut and paste, with white edges around the sprites and weird looking motion. The top screen usually shows some kind of artwork taken straight from the books or different images pasted together to create some kind of relevancy to the mini game. The art certainly isn't bad looking, but it feels like a Flash game, using pre existing material rather than the all new DS adventure that was promised in Ubisoft's announcement. Being released to celebrate the 50th Anniversary of Astérix, it couldn't be more fitting that the game feels old, clumsy and lazy. Apart from some artwork and the novelty of being an anniversary product, it's completely forgettable. It does allow for single cart multiplayer should you find another old bored buddy to race you.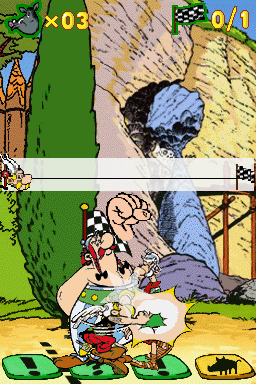 Astérix - Ils sont fous, ces Romains (Nintendo DS)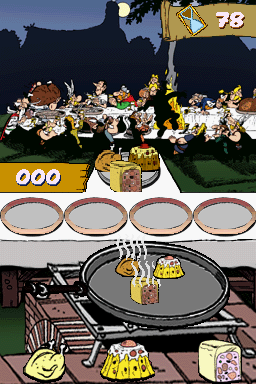 Astérix - Ils sont fous, ces Romains (Nintendo DS)
Links
Astérix.com Official Website for Astérix.
Astérix NZ Great English resource for information about all things Astérix.

Search for all "Asterix" on eBay
Page 1:
Intro

Page 2:
Astérix / Obélix (Atari 2600)
Astérix et la Potion Magique
Astérix and the Magic Cauldron
Astérix und Obélix: Die Odyssee
Astérix chez Rahàzade


Page 3:
Astérix: Le coup du menhir
Astérix (Arcade)
Astérix (Sega Master System)
Astérix and the Great Rescue
Astérix (Game Boy / NES)
Astérix and The Secret Mission


Page 4:
Astérix: Caesar's Challenge
Astérix & Obélix (SNES/etc.)
Astérix and the Power of Gods
Astérix & Obélix: Die Suche nach dem Schwarzen Gold


Page 5:
Astérix & Obélix Take on Caesar
Astérix: The Gallic Wars
Astérix: Search for Dogmatix
Astérix Mega-Madness
Asterix & Obélix Bash Them All


Page 6:
Astérix & Obélix XXL / Astérix & Obélix Kick Buttix
Astérix & Obélix XXL 2: Mission: Las Vegum / Ouifix
Astérix: Rescue Obélix


Page 7:
Astérix and the Vikings
Astérix and Cleopatra The Game
Astérix at the Olympic Games


Page 8:
Astérix Brain Trainer
Astérix & Obélix Encounter Cleopatra
Astérix - These Romans Are Crazy!


Back to the Index