Page 1:
Intro
Another Century's Episode

Page 2:
Another Century's Episode 2

Page 3:
Another Century's Episode 3: The Final

Page 4:
Another Century's Episode R


Page 5:
Another Century's Episode Portable
Extras
The ACE series did a lot of things right. If Super Robot Wars was a love letter to hardcore mecha fans, this is like a hug and a kiss to their more casual brethren, who don't want to be bogged down with menus and statistics. It helped the old shows gain a lot of exposure and revitalize their merchandise with new DVD box sets and action figures/model kits. Inevitably, Banpresto kept the momentum they gained and announced third game in as many years. Gone were L-Gaim, Layzner, Nadesico TV and Gundam 0083 while Dunbine, Brain Powered and G Gundam became unlockable extras. Prince of Darkness (with the Nadesico B/C as your new flagship) and Wings of Rean return to be part of the plot, and eight new series (three of which are extras) join the cast for the largest roster yet. A couple of years after the end of ACE2, we follow young teenager Barrel Orland as a giant robot, the Exbrau, along with its pilot Fei Roshenande lands smack dab in front of him. In typical fashion, he ends up co-piloting it with Fei and drafted into the Earth Federation special unit Londo Bell. While fighting off various off-worldly invaders, an accident involving a giant teleportation device sends your group to a parallel post-apocalyptic version of Earth referred to as Earth B, which is where the invaders actually came from. To go along with that theme, pretty much all the new series' plots take place on a barren Earth recovering from some kind of catastrophic disaster or another. If the character designs for the originals seem familiar, it's because they're done by the Persona series veteran Shigenori Soejima. Although the ACE series featured real robot shows almost exclusively, the inclusion of G Gundam in ACE2 seemed to be an experiment to test how super robots could be implemented with the current game engine. This apparently paid off as two of the new shows belong to the super robot genre.
Quick Info:
| | |
| --- | --- |
| Developer: | |
| Publisher: | |
| Genre: | |
| Themes: | |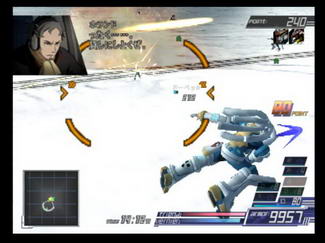 After War Gundam X
Plot Summary:
15 years following a devastating barrage of colony drops which wiped out most of humanity. Young scavenger Garrod Ran is tricked into kidnapping the Newtype Tifa Adil from the group Vulture and stumbles upon a powerful relic from the past war. Now he must aid Vulture in protecting Tifa from the corrupt New United Nations Earth government who seek to abuse her powers and those of the Gundam X's powerful satellite cannon.
Mecha:
The titular mobile suit comes with a rifle that can open up into a shield, as well as a BFG that needs to be charged while standing still. Supporting it are high speed transforming air attacker Gundam Airmaster and the Gundam Leopard, which subs in for its Wing counterpart Heavyarms as a heavy artillery unit.
Getter Robo Armageddon
Plot Summary:
Set in an alternate continuity to the original show, the aptly named Armageddon takes place on an Earth devastated by a massive nuclear strike in response to the threat of powerful alien invaders (Boy, is this description getting redundant or what?). Humanity's last hope lies in the hands of Professor Saotome's final creations: Artificial human Go and the powerful combiner robot Shin Getter Robo.
Mecha:
As an honest-to-God super robot, Shin Getter Robo is the largest playable mecha in the series so far, though it's not as broken as one might imagine. With its ability to instantly switch to one of its three forms, you'll probably have more attacks than you'll ever know what to do with. It can even perform a combination attack by itself if you sortie it without wingmen.
Macross Plus
Plot Summary:
Several decades after the end of the original Macross, hotshot valkyrie pilot Isamu Dyson gets transferred back to his home planet of Eden as a test pilot for the new variable fighter prototypes. This brings him to a not-so-happy reunion with childhood friends Guld Bowman and Myung Lone.
Mecha:
The new valkyries prototypes are pretty much the same as their early counterparts from ACE2 with a slight difference in weapon loadout. Both come with arm shields and chaff, and the YF-21 has its guns mounted on its arms along with the ability to turn off it's limiter to achieve a bullet-time effect.
Overman King Gainer
Plot Summary:
Mankind is living in giant domes controlled by a private organization and its personal police force. The organization is in conflict with a rebel group called Exodus, who plan to separate parts of the domes and haul them across the tundra to the promised lands of Japan (of all places). Gaming nerd Gainer Sanga involuntarily gets recruited by Exodus after escaping arrest under false charges. After helping to steal a mysterious Overman, Gainer becomes its pilot and has to fend off various attempts by the Syberian Railway to stop Exodus.
Mecha:
Overmen are biomechanical constructs that look more like giant alien plushies than mecha. The titular overman in particular is quite odd. It has white dreadlocks, a fishbowl for a head and a chainsaw gun. Overmen sport a bizarre range of magical powers including flame breath, extending limbs and time stopping. There's also a walker-type silhouette machine called the Gatchko, which is the only unit in the game that can't properly fly. Instead it can jump to an indefinite height for as long as you have the ascend button held down. For a humorous animation, leave any OKG mecha idle on the ground for a few seconds and it'll bust out into a funky dance called The Monkey.
Psalms of Planets Eureka Seven
Plot Summary:
When a large sentient life form called the Scub Coral merges with Earth, mankind is forced to abandon the planet. Thousands of years later they unknowingly return and settle in while scientists attempt to study the Scub Coral. Bored 14 year-old Renton Thurston gets a chance to join Gekkostate, a group rebelling against the oppressive government military, when a mech called the Nirvash piloted by a mysterious girl crashes into his house.
Mecha:
LFOs (short for Light Finding Operation) are organic skeletons discovered inside the Scub Coral and fitted with armor and control systems. Before you anal retentive types scream "EVA rip-off!", know that these things fly by surfing, have Zelda-style multi-target boomerangs and can transform into cars...no, really. LFOs also come equipped with chaff to throw off enemy missiles.
Extra Series:
Mobile Suit Gundam:
Plot Summary:
The original real robot show. MSG tells the tale of the inexperienced crew of the battleship White Base during the vicious events of the One Year War. When the Principality of Zeon attempts to destroy the new Federation mobile suits built inside a civilian space colony, Amuro Ray reluctantly becomes the titular mobile suit's pilot in order to defend his home.
Mecha:
The original RX-78 Gundam, which has had untold amounts of merchandise churned out in its name and even its own brand of condoms, comes in three flavors (the mecha of course, not the condoms): The original design which set the standard for all its successors, a full armor version with powerful cannons, and a customized version hailing from a manga based on competitive model kit battling. Because of the tweaks to the engine since ACE2 and to illustrate the technology gap, the RX-78's thrusters aren't strong enough to allow it to indefinitely sustain its altitude, even when boosting.
Mobile Suit Gundam Seed
Plot Summary:
The 9th Gundam TV show. Seed takes place in a time of racial conflict between naturally born humans and genetically modified ones called Coordinators, who have a rather unhealthy obsession with acronyms. You know the drill by now: Earth Alliance secretly builds Gundam mobile suits on a neutral space colony, and the Coordinator nation of ZAFT tries to swipe them. Kira Yamato, a Coordinator, becomes the pilot of the remaining Gundam to save his Natural friends and has to fight against his childhood friend Athrun Zala.
Mecha:
Only the end show Gundams Freedom & Justice are available here. Freedom is an assault-type mobile suit with powerful beam cannons, while Justice is a high speed attacker capable of using its large backpack as a lifter to execute fast melee strikes. Both units have access to a mobile armor attachment called METEOR which gives them insane amounts of firepower and can attached and detached at will with the L3+R3 command.
Turn A Gundam
Plot Summary:
Meant to be a unifying factor of the franchise, Turn A takes place in a timeline where the events of previous Gundam shows occurred in a distant past known as the Dark History. It chronicles the war that's waged between the inhabitants of Earth and the people living on the moon, who plan to migrate back to their home planet. Loran Cehack, a scout from the moon, ends up fighting for the Earth militia as the pilot of the white doll, a.k.a the Turn A Gundam.
Mecha:
The Turn A Gundam, infamous for its unusual love it or hate it design by Syd Mead, comes with the standard mobile suit armaments as well as a few assorted oddities such as chest missiles, pocket nukes, teleportation and a wing-like formation of destructive nano-machines. Its sister unit the Turn X can split off its body parts to attack separately and shares the God Gundam's Finger attack. Both units also use the nano-machines as a healing factor. If you leave the Turn A idle for a few seconds, it'll sit down and hang a laundry line between its hands.
Clocking at 37 missions, ACE3 has the least amount in the series. However, instead of playing them all in one go, the game has two branching paths. So in order to unlock everything and play all the missions, you need to go through the story mode at least twice. It helps improve replay value and prevents the game from being overly long. Too bad not a lot of games use this idea.
From Software took everything that was good about ACE2's interface and refined it even further. Flight controls for plane forms are no longer extra sensitive and you use the yaw buttons to dodge instead of the left analog stick. Weapon clashes, which occurred too many times during boss fights, are now much less frequent. In ACE2, triple-changer mecha like the valkyries had their transformation cycle locked at either end. So in order to switch between the 1st form to the 3rd you had to go through the 2nd form. Now the transformation cycle loops back to the 1st form after the 3rd and vice versa. Combination attacks are also back with a slight change. Instead of initiating as soon as you hit the button, your mech goes into a nearly unstoppable long range dash towards the target. Once the target has been struck, the attack begins. You can also now tell if a certain squad setup has a special combination by checking for the "Ex" symbol in the deployment screen. Special combinations are no longer restricted to mechs from the same show, so you can try to setup similarly-themed mechs in your squad and see the results. Speaking of squads, your wingmen are now noticeably more effective, regularly killing damaged enemies and using their special attacks to destroy whole groups of them. Any mecha with a physical shield can now move it in front of them to decrease damage from attacks.
The experience bar returns and takes less time to max out than the last game. It also affects the regular upgrades now as you can only upgrade your mech to a certain limit and must earn experience in order to be able to upgrade it further.
With one exception, there are no longer units restricted to Earth or space missions. Burrowing from the Super Robot Wars Alpha series' squad system, certain mecha now have innate abilities that can affect both you and your wingmen, such as increased defense and gradual healing. The extended melee combos from the second game have been ditched in favor of the simpler setup from the first, but you can press the boost button during the string to launch yourself forward as you land the last hit.
The new much-talked about feature in ACE3 is the inclusion of vocals in the soundtrack. Before launching into a mission, you can switch between vocal or instrumental versions of your chosen mech's BGM. This combined with the impressive opening songs of the game's line-up give ACE3 the best soundtrack in the series, and the feature was so popular they re-released ACE2 with vocal tracks, as mentioned earlier.
Unfortunately, the same love and care didn't extend to all areas of the game. ACE3 suffers the distinction of having the most generic mission variety among the three games. Just about every mission involves you running all over the map destroying near endless hordes of enemies while occasionally running back to swat the proverbial flies chipping at the health of your flagship(s). To prevent constantly pausing to check the map, the redesigned radar allows you to zoom out to get an overall view of the level and graciously puts blinking red circles around important targets (though it still sucks for space navigation). A recurring element in the more chaotic levels is the presence of rectangular energy fields that damage you if you're within their boundaries. You need to circle around and destroy the enemies guarding the generator before destroying the generator itself and disabling the field. This doesn't necessarily make the game bad per se, but it reeks of lazy level design. It still has some nice set pieces, though, including what's probably the best video game representation of stopping the Axis colony from falling on Earth. Too bad it was just a cut scene.
At the very least, they didn't skimp out on the bosses. Most of them can still beat you to within in inch of your life, and the really big ones are still a sight to behold. To top off this package, you face the massive Shin Dragon in the finale. This thing is just crazy. It's basically the upper torso of red mechanical giant attached to what can only be described as a dragon-shaped vacuum cleaner. It zooms across the map with incredible speed and peppers you with hard hitting homing attacks while you try to catch up to it.
Another nice addition is the long overdue co-op mode. Two players can play through missions from the game as well as the two boss rush stages in horizontal split screen. In order to execute combination attacks, both players must be targeting the same enemy in addition to having a full special gauge. However, you can only do two mecha combinations because you can't select a third squad member to be controlled by the AI. Disappointingly, though, only six of the thirty seven missions are available in co-op.
The standard post completion bonuses return here. One notable improvement is that you now have the ability to turn the limiter on and off at the deployment screen if you don't want your game to be broken. Extra Mission 3 replaces the Serpents with grunt mechs from the normal game and you now have the option of exiting the stage after meeting the minimum kills requirement instead of having to die. There's also a new Extra Mission 4 where you raid the ruins of the Getter Lab and fight a few hordes of mass production Getter Robo G's. It's nothing special though, and the game could have really used something where you're not indiscriminately blowing stuff up.
ACE3 is not the bang of a send off for the PS2 trilogy that it could have been, but overall it's still a good and enjoyable entry in the series, if only for the widely varied cast and great soundtrack.
Page 1:
Intro
Another Century's Episode

Page 2:
Another Century's Episode 2

Page 3:
Another Century's Episode 3: The Final

Page 4:
Another Century's Episode R


Page 5:
Another Century's Episode Portable
Extras