| | |
| --- | --- |
| <!a href="19xx.htm"><<< Prior Page | |
Page 1:
1942
1943: The Battle of Midway
1943 Kai

Page 2:
1941: Counterstrike
19XX: The War Against Destiny

Page 3:
1944: The Loop Master
1942: Joint Strike
1942: First Strike
Capcom's first shoot-em-up was Vulgus, a typical overhead shooter with a typical science fiction theme. Its second shooter, 1942, went for a vaguely more realistic setting, putting you in the role of an Allied World War II fighter pilot fighting in the Pacific Theater. Many have noted over the years how unusual it was that a Japanese company would develop a game where they positioned their grandfathers as the bad guys, but given the burgeoning arcade scene in North America and Europe, decided it was worth it from a commercial standpoint. Indeed it was, and it launched the company's longest running shooter series.
The naming conventions are slightly confusing, largely because the series does not run in date order. The first is 1942, the direct sequel 1943: The Battle of Midway, with a revision called 1943 Kai. The third game is 1941: Counter Attack, the fourth is 19XX: The War Against Destiny, the fifth is 1944: The Loop Master, and the sixth (and most recent) is 1942: Joint Strike. Compared to other shooters, they are more grounded in reality, although they quickly delve into sci-fi and fantasy elements as the series goes on, particularly with the ability to control lightning storms and tidal waves in the second installment, and technological designs far beyond the capabilities of 1940s technology. Government secret weapons are all over the place including lasers, nuclear war machines, tanks and planes the size of buildings, and even alien technology. The series is generally known as either 1942, or 19XX, and is not to be confused with Psikyo's Strikers 1945, which rips of Capcom's series wholesale. Most English speaking gamers are only familiar with the first two (and its more recent HD sequel), seeing as 1941 was initially only ported to the SuperGrafx in Japan (although it shows up in various Capcom Classics Collections), and 19XX and 1944 did not receive console releases at all.
1942

- Arcade, NES, MSX, Commodore 64, Game Boy Color, FM-7, ZX Spectrum, Amstrad CPC, PlayStation, Saturn, PlayStation 2 (Capcom Classics Collection), XBox (Capcom Classics Collection), PSP (Capcom Classics Reloaded), Wii (Virtual Console), iOS (Capcom Arcade) - 1984
In 1942, you play as Super Ace, a plane that looks suspiciously like a Lockheed P-38 Lightning. It is your mission to fly all the way from the United States to Japan, clear the way of enemy weapons so that the main fleet can get through, and ultimately destroy Tokyo. There are 32 levels in total, with very little variation in scenery beyond the blue expanses of the Pacific Ocean, making it feel rather long and visually repetitive. The goal is to shoot down as many enemies as possibly, which you are graded on at the end of each level.
Every so often, a large group of red-colored enemies will fly in formation and taunt you. If you can shoot down all of these planes, you receive extra points, and either a firepower upgrade or options. The firepower upgrade is pretty weak and hardly essential. The options on the other hand, put two smaller planes that fly next to you and fire when you fire, effectively tripling your firepower. The downside is that they can be destroyed if an enemy shoots, or more likely, rams them.
One feature that is unique to 1942 is a special move called "looping" (not to be confused with the shooter term where beating the game will cause the game to start over at a higher difficulty). During each level, you get three loops that are activated by pressing a special button. During a loop you temporarily become invincible, but you are also unable to attack, making you somewhat vulnerable after your ship returns into play. The upside to looping is that you can use it to temporarily plan your attack and get out of a tight spot at the same time.
Having been published in 1984, obviously the game's a bit dated compared to its successors. The graphics consist of very small sprites, lots of palette swapped enemies, and the aforementioned repetitive backgrounds. The background music tries to sound like something out of a marching band, but sound technology was not nearly good enough to pull this off. The result is the same squeaky drums being played over 32 long levels.
Given its popularity, 1942 was ported to numerous consoles and computers, and most of them are fairly faithful, although they all run in a horizontal 4:3 ratio than the vertical 3:4. The NES port was handled by Micronics, a company that did historically bad arcade to console conversions such as Athena, Ghosts 'n Goblins, and later Raiden Trad. The Gameboy Color port is based on the NES version, except the smaller screen makes it a needless strain on the eyes.
1942 also appeared on the 8 bit Japanese computers, MSX, PC88, and FM-7. The MSX port was by ASCII. It has severely downgraded graphics, but plays well. There are some flickering sprites here and there, but it is not enough to ruin the game. The PC-88 port actually has more detail in its sprites due to its higher resolution, but has less colors overall.
The game was ported to a European computer platforms and published by Elite Systems. It doesn't look great, but it plays well. The CPC port crunches down the usable space and puts a huge scoreboard that is always visible on the right and takes up a third of the screen. It's pretty disappointing, especially next to their surprisingly good Spectrum port. The Commodore 64 version has a new opening screen with strange, ominous music. Unfortunately, the controls are a bit jerky, so it's not as good as the Spectrum and CPC versions.
The definitive home versions, however, are on the PlayStation and Saturn, released as part of the Capcom Generations Volume 1 package, which also included its follow-up 1943, and its pseudo-sequel, 1943 Kai. In Europe, the first four Capcom Generations discs were also compiled and released together. These versions were used for the basis for the Capcom Classics Collection for the Xbox and PlayStation 2, as well as Capcom Classics Collection: Reloaded for the PlayStation Portable. They are essentially arcade perfect, and also include various unlockables like concept art when certain milestones are reached. 1942 is also featured on the Capcom Arcade for the iOS, which is basically an emulation of the original game with absolutely horrible controls.
Quick Info:
| | |
| --- | --- |
| Developer: | |
| Publisher: | |
| Genre: | |
| Themes: | |
Comparison Screenshots
1943: The Battle of Midway (1943: ミッドウェイ海戦) / 1943: The Battle of Valhalla

- Arcade, NES, Atari ST, ZX Spectrum, Amstrad CPC, Commodore 64, Amiga, PlayStation, Saturn, PlayStation 2, PSP, iOS (1987)
Released three years later, 1943: The Battle of Midway is a massive improvement over its it predecessor. It looks much nicer, has an actual soundtrack, and introduces many of the defining elements of the series.
The game begins with the enemy bombing your carrier. You manage to take off before it sinks and take to the skies to exact vengeance, with the ultimate goal being the destruction of the Japanese battleship Yamato. There are now sixteen levels in total, with the second half of each level comprising of a boss battle. For most of the stages, you fly lower to the ground and fight against a fleet of battleships. If you fail to take out the leader of the fleet, you must replay the segment, although if you fail twice, you're given a pass to the next stage. In a few of the stages, you fight against a gigantic airplane instead.
Eschewing the tradition of many Japanese shooters, you have a "health" bar, though you only have a single ship per credit. However, it drains automatically, albeit rather slowly, so in effect it's sort of a fuel guage too. As before, detroying colored formations will drop a power-up, which can be cycled through by repeatedly shooting them, allowing you to choose which is the most appropriate. Health restoratives are the most important, especially due to your ever-decreasing health bar, but there are also plenty of new weapons.
The arsenal includes the auto gun, which is a rapid fire weapon; 3-way, a pretty standard spread gun; shotgun, which is a short range weapon that erases enemy attacks; and shell, which shoots large, explosive rounds that are good for taking out bosses. However, each weapon only lasts for thirty seconds before you revert back to your regular pea shooter. Picking up a weapon you already have equipped will add another thirty seconds to the timer. The other big new addition to your arsenal is bombs, which clear entire screen of weak enemies and heavily damage large ones. The type of bomb attack depends on what section of the level you're in. If you are flying high in the sky, lightning will strike all enemies on screen. If you are flying low, near the ocean, a huge tsunami douses all enemies beneath it. If a bullet is about to hit you, a flash will clear the entire screen of projectiles. The downside is that using a bomb takes up a small amount of health, so strategic use of them is key. There's also a new ranking system. When you complete a level, your performance is graded, and you get extra health if you get promoted. Obviously killing as many enemy fighters as possible will get you a higher rank, but you should also watch out for hidden cat statues that appear and randomly warp around the screen, which can reward you with lots of points.
Like its predecessor, 1943 was ported to many systems. The most unique is the NES version, which adds in a feature where you can customize your plane's statistics - at the beginning, you can allocate a certain number points to your offense, defense, energy (the size of your health bar), special weapon (which determines which weapons pop up when you shoot power-ups) and special weapon time limit (how long a special weapon lasts). You can find hidden items throughout the game which can be used to strengthen any of these after each level. There are 24 stages in total this time, as opposed to 16 in the arcade version. The port was also handled by Capcom rather than Micronics, so it's a big step above the original's NES port. Interestingly, the Famicom version is subtitled The Battle of Valhalla rather than The Battle of Midway, turning it from a real campaign to a fictional one.
The ZX Spectrum version is terrible. Everything is either white or light blue, putting a huge strain on the eyes, a huge downgrade from the surprisingly good port of 1942. The Amstrad CPC version once again has a really cramped screen with too much space devoted to showing player 1 and 2's scores. While the graphics look pretty decent for a CPC game, and it runs more sprites on screen than one would be used to seeing on a CPC, the cramped screen screws it up. It's still playable, just frustrating.
There are two ports for the Commodore 64. The first, released in 1987 by Swedish company Action Software, is technically called '43: One Year After, as noted on the box cover and title screen. It was not made by Capcom or even licensed for that matter. It plays closer to 1942 and looks surprisingly decent for a rip off. Unfortunately, it also plays terribly, with two huge bars on the side of the screen, with the left side showing a map tracking your progress. A proper port was developed by Tiertex and released the next year, and while it's better than One Year After, is still mired by plenty of issues, most notably the slow speed of your plane.
Until the Capcom Generation/Capcom Classics Collection ports years down the road, the best versions were the Amiga and Atari ST ports, which are similar to the arcade version, although not quite as detailed. There's also a large window in the right size of the screen. Like its predecessor, it also appears on the Capcom Arcade, in essentially unplayable form due to touch screen controls.
Quick Info:
Developer:

Publisher:

Designer:

Noritaka Funamizu
Dechikun

Genre:

Themes:
Comparison Screenshots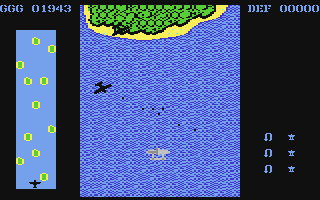 1943 Kai (1943改: ミッドウェイ海戦)

- Arcade / PC Engine / PlayStation / Saturn / PlayStation 2 / PSP (1988)

1943 Kai isn't quite a sequel, so much as a revised update - think of it as "1943: Champion Edition". It replaces the Super Ace with a Boeing Stearman E75, a type of biplane. In addition to some new enemies, there are also enhanced weapons, like a more powerful shotgun. There's a brand new soundtrack with many more songs, so although there's more variation than before, the songs really aren't quite as good. The game has also been condensed to a total of ten stages. This version makes its appearance the Capcom Generations Vol. 1 collection, but was not officially released in North America until its appearance on the Capcom Classics Collection for the XBox and PlayStation 2.

1943 Kai was also ported to the PC Engine by Naxat Soft, and significantly overhauled in the process. The graphics have been redrawn, and actually look a bit nicer than the arcade version. The music, too, is catchy, and a pretty huge step up. By default it runs in a 4:3 screen ratio, but there's an option to change the resolution to narrow the screen, making it look a little bit more like the arcade version.

Perhaps more importantly, this version includes five brand new stages. The first part of the game is practically identical to the arcade version, but after those are completed, the "Original" mode kicks in. This is practically a whole new game, as you control a different, more powerful fighter. These stages are much more visually diverse than the endless ocean levels of the arcade game, complete with new enemies and bosses. They're also much more difficult and involving, to the point where this version is definitely preferable over the original version. (A cheat code lets you skip to the new levels, if you're so inclined.)



Comparison Screenshots
Additional Arcade Screenshots
PC Engine Screenshots
| | |
| --- | --- |
| <!a href="19xx.htm"><<< Prior Page | |
Page 1:
1942
1943: The Battle of Midway
1943 Kai

Page 2:
1941: Counterstrike
19XX: The War Against Destiny

Page 3:
1944: The Loop Master
1942: Joint Strike
1942: First Strike