A History of Korean Gaming
빅콤 Viccom
Founded:

November 1991

Status:

defunct

Key People:

金甲煥 김갑환 Kim Kaphwan:
Chairman
李海權 이해권 Yi Haegwon:
President Viccom ca. 1994
金在勳 김재훈 Kim Jaehoon:
R&D chief Viccom ca. 1994
President Viccom ca. 1997
김웅재 Kim Ungjae:
President Vicco
金大煥 김대환 Kim Daehwan:
President Vic-A


Website:

www.viccom.co.kr (offline)
Viccom actually used to be a small group of companies, led by chairman Kim Kaphwan. Yeah, that's the Kim Kaphwan, namegiver for the famous Fatal Fury and King of Fighters character. The real Kim Kaphwan is a 3rd Dan in Tae-Kwon-Do himself, and got to travel to Japan a lot as assistant to the Korean-Japanese pro wrestler Rikidozan.1 Sometime in the late 1980s, Kim started a company named Victor (apparently not related to the Japanese music giant or its subsidiaries) to import arcade machines from Japan, and made news by defending his interests in court against bootleggers of the SNK title Mechanized Attack.2 In 1990, Victor itself came into the spotlight of the law for illegally importing disassembled slot machines labeled as spare parts, then reassembling and selling them in Korea,3 which might have been the motivation for starting fresh with a new company the year after.
Due to Kim Kaphwan's past with SNK, Viccom's ties to the Japanese company had been strong from the beginning, and Chairman Kim took care that SNK's Korean characters would get names that actually existed in Korea. In fact, most are borrowed from him and his own relatives; Donghwan is one of his younger brothers, while his son - R&D director and later president of Viccom - is named Jaehoon.4 (The latter founded UnoTechnology in 2002 and worked on a King of Fighters Online project which was later cancelled.) In return(?) Viccom received the Japanese company's support to produce the first Korean NeoGeo game, after 9 young developers actually underwent training at the SNK headquarters in Japan for a year.5
Viccom was founded first as a game developer, with Vicco following to distribute the MVS in arcades, while Vic A took care of publishing the NeoGeo home console in Korea. However, early in 1998 Vic A president Kim Daehwan got involved in a bribery scandal involving the Korea Computer Game Industrial Association, and was arrested on charge of relations to organized crime.6
The subsidiary companies soon faded out, and all functions were unified into Viccom alone.7 But with the staggering arcade market, Viccom itself soon lost influence. The company tried to keep its head over water with all kinds of endeavors, including military training simulators8 and Tamagotchi clones, and also brought the NeoGeo Pocket to Korea, but eventually had to fold in the early 2000s.
Kim Kaphwan also used to be a key figure in Korea's early arcade industry and chairman of the Korea Computer Game Industrial Association (한국컴퓨터게임산업중앙회). In 2008, he made his comeback with the company XRI, trying to save the dwindling arcade market by publishing a hydraulics-supported arcade version of GTR Revolution by the Swedish studio SimBin and 3D screen technology.9
Games
왕중왕 (Wang Jung Wang) / Fight Fever

- Arcade (1994)

Fight Fever was for a long time the most well known old Korean game, thanks to it being based on SNKs NeoGeo hardware. It didn't do much to raise awareness about the Korean development scene, though. With mechanics that lie somewhere in between Street Fighter II and Art of Fighting, the game brought nothing new to the table and was perceived as highly mediocre at best.

While Kim Kaphwan gave SNK the names of his family members for their Korean fighters, the main character in Fight Fever, Han Baedal is named in memory of Masutatsu Oyama (one of his Korean names was Choi Baedal), founder of Kyokushinkai Karate.
Quick Info:
| | |
| --- | --- |
| Developer: | Viccom |
| Publisher: | Viccom |
| Genre: | Fighting |
극초호권 (Geuk Cho Ho Kwon) / The Eye of Typhoon

- 3DO, IBM PC (1996)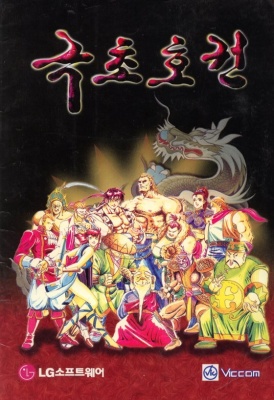 What Fight Fever wasn't capable of, The Eye of Typhoon was dead-set to achieve. While still rather derivative of the big name games in the genre, it was one of the most competent fighting games of its time that wasn't Street Fighter or Real Bout. The NeoGeo as a platform could have secured world-wide recognition this time, but it wasn't to be. The game already went to location tests in Japan, when suddenly all work on the arcade version was cancelled, and Viccom ported it to the PC and 3DO instead. One can only guess what led them to a decision that limited their game to small, obscure domestic releases, but some sort of exclusive deal with LG for their doomed 3DO endeavor seems not unlikely.
While most Korean fighting games where still stuck in the 8-character scheme introduced by Street Fighter II: The World Warriors, The Eye of Typhoon was able to boast with 12 selectable combatants, each of which sporting a big arsenal of moves, which is not the only aspect that makes the game very akin to SNK fighters. The aesthetics are also very similar to Fatal Fury or King of Fighters, although it features none of the more peculiar mechanics of these series.
The core gameplay is as solid as can be, but it really shows that this game was not intended for the PC platform. The menus are hard to access and the button layout is rather inconvenient, to put it mildly. There's not even a key to quit the game, so turning off the computer (or quitting DOSBox, nowadays) is the only way out. The 3DO version is more comfortable to use, but it has noticably smaller sprites, and the backgrounds are also quite different.
Unreleased Titles:
손오공 (Son Ogong / Son Wukong) (1992)
MVP를 만들자 (MVP-reul Mandeulja) (1996)
References
1. ZDNet Korea 10/15/2009
2. http://mirror.puzzlet.org/angelhalo/view/%EA%B9%80%EA%B0%91%ED%99%98
3. Kyunghyang Shinmun 8/19/1989, page 15
4. Kyunghyang Shinmun 8/19/1989, page 15
5. Dong-A Ilbo 2/7/1994, page 7
6. Hankyoreh 1/23/1998, page 27
7. Viccom Homepage (archived)
8. Dong-A Ilbo 7/23/1997, page 19
9. ZDNet Korea 10/15/2009