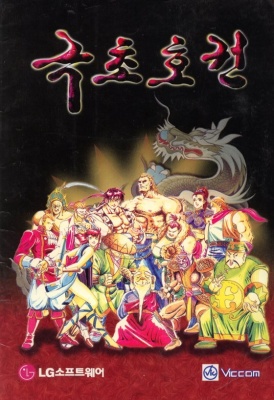 What Fight Fever wasn't capable of, The Eye of Typhoon was dead-set to achieve. While still rather derivative of the big name games in the genre, it was one of the most competent fighting games of its time that wasn't Street Fighter or Real Bout. The NeoGeo as a platform could have secured world-wide recognition this time, but it wasn't to be. The game already went to location tests in Japan, when suddenly all work on the arcade version was cancelled, and Viccom ported it to the PC and 3DO instead. One can only guess what led them to a decision that limited their game to small, obscure domestic releases, but some sort of exclusive deal with LG for their doomed 3DO endeavor seems not unlikely.
While most Korean fighting games where still stuck in the 8-character scheme introduced by Street Fighter II: The World Warriors, The Eye of Typhoon was able to boast with 12 selectable combatants, each of which sporting a big arsenal of moves, which is not the only aspect that makes the game very akin to SNK fighters. The aesthetics are also very similar to Fatal Fury or King of Fighters, although it features none of the more peculiar mechanics of these series.
The core gameplay is as solid as can be, but it really shows that this game was not intended for the PC platform. The menus are hard to access and the button layout is rather inconvenient, to put it mildly. There's not even a key to quit the game, so turning off the computer (or quitting DOSBox, nowadays) is the only way out. The 3DO version is more comfortable to use, but it has noticably smaller sprites, and the backgrounds are also quite different.