After finally porting all of the GBA Gyakuten Saiban games to the Nintendo DS, Capcom released the fourth installment, known in English territories as Apollo Justice: Ace Attorney. The developers must've felt that Phoenix and his pals were getting a bit long in the tooth, so they set the old cast aside in favor of a new star - the titular Apollo Justice. He's a rookie, much like Phoenix in the first game, so we get to experience his initial foray into the world of defense attorneys.

Even though the characters are different, the dynamic is much the same, and Apollo and Trucy are pretty much just like Phoenix and Maya. Phoenix is constantly present through the game, though his personality seems to have changed quite a bit. It seems a bit strange in the beginning, but the story does an excellent job of explanining the downfall of Phoenix Wright, even if the change is jarring. It's a great way to acclimate gamers to a new cast while still keeping certain elements familiar.

Case 1 - Turnabout Trump

Two men get into a struggle over a game of poker, and one of them ends up dead as a result. The other man is none other than Phoenix Wright, who is accused of killing his opponent. He decides to trust his fate to rookie attorney Apollo Justice for reasons that he refuses to reveal.
Apollo Justice / Housuke Odoroki
The new hero of the court! A brash young attorney with an even more outlandish haircut than his predecessor. His weapons include his passionate heart burning red, his (vocal) Chords of Steel, and the unlikely ability to examine people with intense concentration.

Phoenix Wright / Ryuuichi Naruhodou
The former protagonist of the series has fallen from grace after losing his badge. He now plays bad piano at the Borscht Bowl Club restaurant, and he doubles as a talented poker player. Although he has become somewhat shady in recent years, beneath his hobo beanie is the determined lawyer we all love.

Kristoph Gavin / Kirihito Garyuu
A magnificent lawyer and Apollo's mentor. Always a cool customer, he manages to intimidate everyone in the courtroom with his presence, even his prote'ge'. Apparently, he is good friends with Phoenix.

Olga Orly / Masaka Sakai
A shy Russian waitress with a bad grasp on the English language. In addition to serving cold food to customers, she also takes pictures as souvenirs. Her last name is a reference to the "O RLY?" internet meme.
Case 2 - Turnabout Corner
Apollo is somehow drafted to investigate three mysteries: a reckless driver who hit Phoenix, a missing mobile noodle stand, and a stolen pair of panties. These events all somehow lead to a murder case where a doctor is shot in the park. Will Apollo be able to connect these minor crimes to the big case at hand?
Trucy Wright / Minuki Naruhodou
Phoenix's daughter (apparently) and Apollo's perky sidekick. She is an incredibly talented young magician for her age, and her performances at the Wonder Bar rake in more cash than her papa has ever seen in his former career. She transforms her dad's old law firm into the Wright Anything Agency and works with Apollo on things besides murder cases.

Klavier Gavin / Kyouya Garyuu
The game's main prosecutor and Kristoph's brother. He's the first rival in the series to hold no grudge against the protagonist, and he's actually an honest man, even if he acts like a jerk every now and again. However, he is nonetheless a formidable opponent in court. He's also the frontman of his own popular rock band, the Gavinners.

Ema Skye / Akane Houzuki
Phoenix's jubilant science-loving sidekick from the "Rise from the Ashes" case (from the DS version of the first game) is all grown up now and serves as the police detective. She failed her forensics test and works as a common investigator, which has caused her to become quite bitter. However, she acts like her good old self whenever she gets the chance to utilize science. She's basically this game's equivalent to Dick Gumshoe.

Guy Eldoon / Mugitsura Yatabuki
A roaming noodle vendor, and a good friend of Phoenix and Trucy. He has a good heart, despite his cynical exterior made bitterer as a result of his noodle stand being stolen. He also likes to play harmonica.

Wocky Kitaki / Takita Kitaki
The defendant of the murder case. An aggressive loudmouth who just so happens to be the son of a feared mob boss. He acts all tough and uses a lot of hip-hop slang to uphold the image of a gangster badass.

Alita Tiala / Minami Namina
A timid young woman and Wocky's fiance'. She puts in the request for Apollo to defend her beloved, though what she sees in the reckless punk is anyone's guess.

Wesley Stickler / Kyousaku Kawazu
The witness of the murder. A pompous science student from Ivy University who uses twenty words to say what can be said in five.
Case 3 - Turnabout Serenade
One of Klavier's concerts ends in disaster when the stage manager of his supporting act ends up dead. The murder takes a turn for the bizarre when the actions of the crime mimic the lyrics of a song played that night. Is the crime the result of a demented fan, or are there greater machinations at work?
Machi Tobaye / Maki Tobaayu
The very young defendant of the case. A blind pianist hailing from the foreign nation of Borginia. His inability to speak a lick of English makes Apollo's case far more strenuous.

Lamiroir
A gorgeous singer also known as the "Siren of the Ballad." Her voice is so beautiful and inspiring that it has been dubbed "Sight-Seeing Musique." She has amnesia to a point before she met Machi and made a career out of their talents.

Daryan Crescend / Daian Mayazuki
The second guitarist of the Gavinners and a professional detective. With a sour personality and a frighteningly phallic haircut, he is a dickhead in both the literal and figurative senses.

Valant Gramarye / Varan Arumajiki
A famed magician who is proud of his showmanship. Acting as if the limelight is always upon him, he rarely falters in his dramatic presence and stylistic vocabulary. Trucy considers him to be her uncle, even though the two are not directly related.
Case 4 - Turnabout Inheritor
A young artist is accused of poisoning her father within their very own studio. While this trial first appears to be fairly simple, a history of lies and betrayal lurk beneath the surface of this case. Furthermore, this is the first case to factor in jurors who decide the ultimate verdict based on their emotions. Can Apollo silence the roaring demons of the past and bring justice to the future?
Vera Misham / Makoto Ese
The quiet defendant of this case. Her meek persona has been formed through years of being sheltered from the outside world. She rarely changes facial expressions, instead drawing out faces on her easel to convey her feelings.

Spark Brushel / Shoutarou Hamigaki
An incredibly obnoxious journalist who always transforms the words of others into quotes for any potential stories he might write. He also has an obsession with oral hygiene and a tendency to offer ridiculous metaphors.
For the most part, the game system works the same as the previous games. The Psyche-Locks are gone, instead replaced with the "Perceive" ability used in the courtroom segments. In these segments, you can zoom in on a witness and examine them for nervous movements. If you can pick them out, you can pressure them into telling the truth. You're only allowed to use skill when the game explicitly calls for it.
The final case factors in a device known as the "MASON System" to examine the events leading up to the trial. This puts everything in perspective and examines the events in the wake of Phoenix's downfall. Instead of learning about the backstory by research in the modern day, you jump back and forth in time to discover the truth. The Psyche-Lock system returns, as do a couple of familiar characters who work in law enforcement. The MASON System is doubtlessly one of the most surreal elements in the game and one of the most controversial, and it's never really explained in-game what it is or how it works. However, it does deserve some recognition for how incredibly bizarre it is in an otherwise realistic series, spirit medium channeling notwithstanding. The game also has a weird ending - you're a member of a jury, and you get to decide if the defendent is guilty or not. It's quite literally a "win/lose" button.
The graphics are subtly better than the previous GBA games - there's more detail to the characters, and their reactions are extremely well animated. The backgrounds, too, are very nice, especially the redrawn courtroom, which now looks a bit softer. You can also examine all inventory objects in 3D, much like the final case in the DS port of the first game, although it's rare that you need to do this. There's also some full motion videos that show crime reenactments, and there are a few mini-game style segments where you get to play around with Ema's tools, like finger printing kits. These are all very short and shallow, but utilize the DS touch screen functionality. The soundtrack was composed by Toshihiko Horiyama, who also did music for some of the Mega Man X games. Stylistically, it's a bit different from the GBA games, but the sound quality is definitely quite a bit better. Overall, Apollo Justice is a fantastic way to keep the series fresh, even though the actual gameplay hasn't evolved much.
MP3s Download here
Apollo Justice ~ A New Trial is in Session!
Questioning ~ Moderato 2007
Pressing Pursuit ~ Cornered
Klavier Gavin ~ LOVE LOVE GUILTY
Apollo Justice: Ace Attorney
Apollo Justice: Ace Attorney
Apollo Justice: Ace Attorney
Apollo Justice: Ace Attorney
Apollo Justice: Ace Attorney
Apollo Justice: Ace Attorney
Apollo Justice: Ace Attorney
Apollo Justice: Ace Attorney
Apollo Justice: Ace Attorney
Apollo Justice: Ace Attorney
Apollo Justice: Ace Attorney
Apollo Justice: Ace Attorney
Apollo Justice: Ace Attorney
Apollo Justice: Ace Attorney
Apollo Justice: Ace Attorney
Apollo Justice: Ace Attorney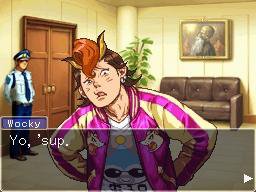 Apollo Justice: Ace Attorney
Apollo Justice: Ace Attorney
Apollo Justice: Ace Attorney